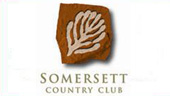 Somersett Country Club
Breathtaking would be an accurate description of the setting at the base of the Sierra Nevada Mountain Range for Somersett Country Club. Located in Reno, Nevada, at 7,252 yards from the Sierra tees, the par 72 Championship Course is naturally blended into the high desert landscape offering panoramic views of the surrounding alpine vistas. With five sets of tee markers, seven lakes, and sixty-two white sand bunkers, the course offers players of varying ability levels the opportunity to challenge or be challenged.
When Tom Kite, along with his Kite, Bechtol, Russell Team first viewed the site they were blown away with the size of what they had to work with. This truly is the "Big Country," and the magnitude of the property was almost overwhelming. Small design features on a site like Somersett would never have worked. Therefore, when strategizing the course, Kite's choice was to design the bunkers, lakes and surrounding mounds quite large so they fit the scale of the property. The hazards form a picture frame around the immaculately conditioned, undulating fairways and greens indicating to all the golfers the location of the ideal place to play from.
Because of the elevation changes, a 400 foot wide golf envelope was chosen in place of the standard 300 foot envelope to insure there was plenty of room to play. "I tied to find variety in terms of length, direction, slope, and shot shape, and that challenge is magnified when designing a course with elevation changes like Somersett," said Kite.
The bent grass greens are also on the generous size with numerous pin locations and challenging contours. Following the USGA guidelines for greens construction has helped insure perfect playing conditions and a true roll on each and every putt. The design of this world-class golf course was very much a hands-on experience.
Pictures