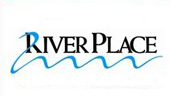 River Place Country Club
Tom Kiteís first venture in golf course design began in the early 1990ís and is located on the edge of the Texas hill country just west of Austin, Texas. While the River Place site was rugged with huge changes in elevation, the opportunity to design a course in his home town was too tempting to pass up. Working with Roy Bechtol, Kite was able to design a golf course that has some of the most inspiring views anywhere around. From some locations, it is estimated that one can see over 30 miles away.
Cutting and blasting through the limestone strata proved to be the main obstacle during construction. However, benching the holes into the slopes rather than running them up and down the hills proved to be the correct decision as the golf course has a minimum number of blind shots and extreme elevation changes. Considering the difficulty of the site, the course has proven to be quite playable. One of the River Place signature design features is the stacked limestone rock walls that support the tee and green locations. The rocky conditions of the site required plating almost the entire course with sand, but fortunately, there were plentiful sand deposits on site near Lake Austin. River Place Country Club has been rated one of Austinís best private clubs for many years running.
Even though River Place Country Club was Kiteís first design project it was very much a hands-on experience as he tried to soak up as much knowledge as he could. Many of the design philosophies he now uses on other projects were developed on this project.
Click here for more information on River Place Country Club.
Pictures