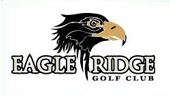 Eagle Ridge Golf Club
About 15 miles south of Raleigh, NC, in the growing community of Garner, lies Eagle Ridge Golf Club. This par 71, 6,904 yard golf course has been giving golfers an enjoyable golf experience since it opened in the fall of 2000. The spectacular, wooded rolling terrain was once a tree farm and home to a successful logging business. Now the semi-private Eagle Ridge Golf Club winds its way through the mature pine and hard wood forest playing along existing creeks and rock outcroppings. The land dictated the routing and allowed for a truly natural golf experience that blends in with its surroundings.
Working with Bob Cupp, Tom Kite was able to design a strategic course that promotes creative shot strategy and encourages the golfers to think about their shots before they play them. While the course is not overly long by today's standards, Eagle Ridge's strength lies the contouring of the large greens. Many of the greens have multiple levels and pin locations providing interesting shot values no matter what the golfers' handicap. What seems to be a trade mark of Kite's design, the dramatic bunkers have flashed sand, so the hazards are well defined.
Working with the environment groups in the planning and development of the course, Kite/Cupp created areas that reflect the area's natural habitats. The creeks that play such an essential part of the course strategy also are home to many of the native wildlife creatures.
Pictures