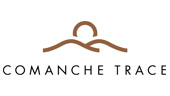 Comanche Trace
Tom Kite understands the Texas Hill Country, and he knows golf. This results in a marriage made in heaven. Working with Roy Bechtol and Randy Russell, Tom Kite created a truly unique golf course in Kerrville, Texas, Comanche Trace Golf Club.
Taking advantage of the contours, slopes and ancient Live Oak trees, so prevalent in the hill country, Kite was able to create a strategic layout that presents the player a goal to be reached and problems to be avoided. Various design elements were incorporated to identify the quality of the shots played. Each hole of the course was deliberately planned so the result created aesthetic variety and sophistication.
The length of the course is tailored to normal conditions so that any given hole will not change par even in different wind conditions. However, because this is Texas, the wind will introduce another challenging variable. Therefore, the par threes, par fives and most of the par fours are pointed in differing directions taking full advantage of the variety created by changing wind directions.
Length is always a consideration, and since inevitably there will be golfers with various abilities playing the course, four sets of tees were built. This results in a par 72 course that can range from 5,133 yards from the forward tees to a max of 7,103 yards from the championship tees.
Strategic sophistication also requires a multitude of green sizes and shapes, and Comanche Trace fits this mold. A large contoured green must be approached differently than a relatively small flat putting surface. A large green, like the huge fifth, may not require as accurate a shot to hit the green, but having long approach putts will lead to certain three putts from time to time. Three putting may not be as problematic on a smaller green like the forth as it is easier to putt on a flat surface once the golfer hits the putting surface. Very small greens with small moguls punctuating the surrounds will provide awkward stances which will have a tremendous effect on the player's score.
Natural drought resistant native grasses designed and selected especially for the environment were used in the non-playing areas. In the springtime, the color is incredible as the black-eyed Susans, Indian paintbrushes, and bluebonnets paint the Texas landscape. The tees, fairways and roughs are Tiff-sport Bermuda to insure a sharp contrast to the native grasses and wildflowers. The putting surfaces are a blend of two bent grasses, L93 and Crenshaw, and they form some of the best bent grass greens in Texas, or anywhere else in the country.
The 18-hole golf course at Comanche Trace will appeal and challenge enthusiasts of every age and ability. Kerrville is a very pleasant area in the Texas Hill Country with a remarkable climate that allows for twelve months of great golf.
Comanche Trace was awarded Golf Digest's Architecture Award in 2007-2008 for Best Courses in the State as well as Golfweek's One of America's 100 Best Residential Courses, 2005/2006.
Pictures