Trump International Golf Club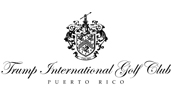 Trump International Golf Club Puerto Rico
Located just a short drive east of San Juan, Puerto Rico, Trump International is one of the most complete and diverse resort developments in the Caribbean. When the complex is completed there will be two five star hotels with casinos, spas, tennis facilities, golf home sites and, of course, the world class beaches of Puerto Rico.
Trump International was the first design project for Tom Kite Design outside the mainland United States. This 36 hole development has four distinct nine hole courses as well as a state of the art practice facility and golf learning center. The Lakes, Palms, Mountain and Ocean nines can be combined to form various combinations of 18 hole courses for the golfers' enjoyment. With five sets of tees and yardages ranging from 5,394 to 7,587, Trump International offers the perfect challenge for every level of player.
The Lakes nine intricately weaves its way around eight manmade lakes creating a beautiful and challenging nine holes. This nine puts emphasis on your putter as the greens are large and undulating.
On the Ocean nine, the golfers may have a difficult time keeping their concentration as the views are spectacular. However, they better pay attention as the ocean breezes put an emphasis on club selection and shot value.
The Mountain nine offers a diverse landscape with elevated tee boxes that offer exquisite views of El Yunque and the Atlantic Ocean. Each hole is imaginative and takes advantage of the unique topography.
The Palms nine winds its way through a forest of palm trees and wetlands creating one of the Caribbean's most spectacular golf settings. A round on the Palms is the vacation escape anyone is looking for.
In an announcement in early 2007, Trump International was chosen by the PGA TOUR as the site for the 2008-2010 Puerto Rico Open presented by Banco Popular. The Lakes and Ocean nines will now test the finest golfers on the PGA TOUR as they go after the $3.5 million purse. The event will mark the return of professional golf to Puerto Rico where golf is loved and enjoyed by many. A result of the PGA TOUR event has been the creation of a new Championship Course/routing. This course is available for member/public play prior to and after the event. This new routing provides golfers with seven different combinations for golf so they can stay a week and never play the same course twice.
Click here for more information on Trump International Golf.
Pictures